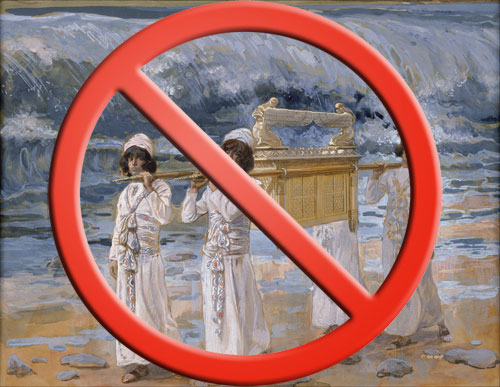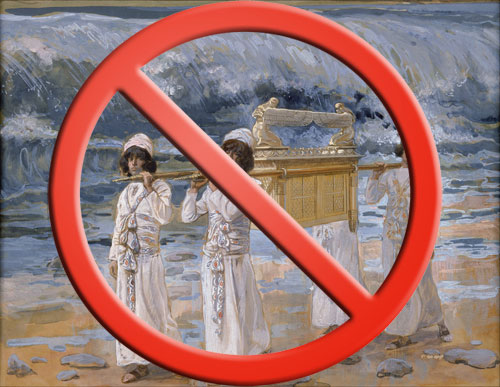 The Ark of the Covenant is shown being carried in public for all the world to see, but the Ark had to be covered when it traveled.
(Numbers 4:4) This will be the service of the sons of Kohath in the Tent of Meeting, about the most holy things, 5. and when the camp sets forward, Aaron and his sons will come and they will take down the covering veil and cover the Ark of Testimony with it, 6. and will put on it the covering of badgers' skins and will spread over it a cloth wholly of blue, and will put in its poles.
There are many pictures of the Ark being carried, but not even the Levites who carried the Ark were permitted to look at it. Only Aaronite priests could see the uncovered Ark, and only on Yom Kippur or when the LORD* ordered the Tabernacle to move. There is no mention of covering when the Ark was in the house of Abinidab, and then the house of Obed Edom, or on its travels before being placed in the tent in the City of David. There is no way of knowing if the sons of Eli covered the Ark before taking it to the battle, or if it was covered when sent back to Israel by the Philistines. In 1 Samuel 14:16 Saul called for the Ark to come to the battle, but there is no way to know if the Ark was taken to the battle, because of the element of panic immediately following the call for the Ark.
(1 Samuel 14:18) And Saul said to Ahijah, Bring the Ark of God here. For the Ark of God was at that time with the children of Israel. 19. And it happened, while Saul talked to the priest, that the noise that was in the army of the Philistines went on and increased and Saul said to the priest, Withdraw your hand.
---
The One New Man Bible Companion, at 242 pages, with more than two-hundred indexed subjects including: the nature of God, covenant, the Hebrew and Greek languages, religious myths, biblical word meanings, teachings, Jewish roots, the Patriarchs, biblical weights and measures, Hebrew months, map of the united kingdom in the days of David and Solomon is the perfect partner to getting the most out of your One New Man Bible!