Gentile is a Myth because it is the Latin word for Heathen. If you say you are a Gentile, you are saying that you are a heathen.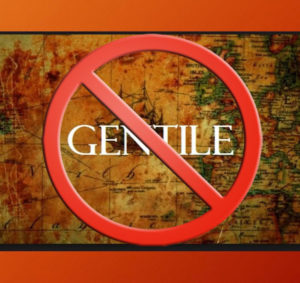 Gentile is a word that is not used in The One New Man Bible because the Greek word often translated gentile means heathen. Gentile is actually the English spelling of the Latin word for heathen, gentilis, so other translators have for centuries chosen the politically correct term, gentile, instead of what the authors wrote, heathen. The Latin word was used because the earliest English translations were made from the Latin Vulgate text. Those early translators chose not to translate the Latin word, gentilis, instead just spelling the word in English.
---
The One New Man Bible Companion, at 242 pages, with more than two-hundred indexed subjects including: the nature of God, covenant, the Hebrew and Greek languages, religious myths, biblical word meanings, teachings, Jewish roots, the Patriarchs, biblical weights and measures, Hebrew months, map of the united kingdom in the days of David and Solomon is the perfect partner to getting the most out of your One New Man Bible!
---
Special Offer
One New Man Bible 9th printing edition
Pre-order, save 25% – 50%
Free, immediate download of the One New Man Bible and One New Man Bible Companion with your order.
Order 8 Bibles or more and receive a 50% bulk discount (discount is automatic at checkout)
Win a chance to receive a free One New Man Bible. Click here to learn more.
---