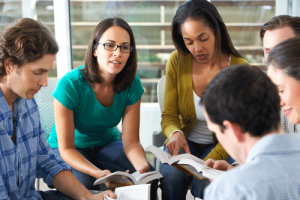 Do you know that most new readers of the One New Man Bible discover it by word of mouth? Someone who has experienced this powerful translation shares it with a friend, who shares it with a friend. We have had churches, Messianic groups, Bible study groups and individuals call us asking how they can purchase multiple copies of the One New Man Bible to use in their study groups or share with family and friends.
From the beginning, William Morford, the translator and editor of the One New Man Bible, knew that those who read this translation would share it with others; he asked us to provide a way readers could buy multiple copies at a substantial discount for sharing with others in their churches, synagogues and Bible study groups. We agreed, from the beginning, that we would make the One New Man Bible available, in carton quantities, to anyone who wanted to share this wonderful translation at a 50% discount (less than bookstores pay!). To make this offer even more accessible to everyone, we made sure the carton quantity was just 8 Bibles. That's right, anyone or any group can purchase just 8 One New Man Bibles and receive a 50% discount. This makes it possible for your group to study, economically, from the same text. Better yet, your Bible study is greatly enhanced by the powerful and biblically accurate translation and the Hebrew context.
Imagine! For the first time, your group, family and friends will have the opportunity to read and understand Scripture in the same context and power the first century Believers read and understood it!
If you would like to share this translation with your church, Messianic or Bible study group, or if you would just like to share it with your family and friends, this is your opportunity to save 50% on the hardcover edition of the One New Man Bible. This offer is not available in bookstores, on Amazon or anywhere else. Take this opportunity today to open the eyes of others to the power and Hebrew roots of scripture!